The Mutiny on Board H.M.S. Bounty, with eBook (Tantor Unabridged Classics) (Compact Disc)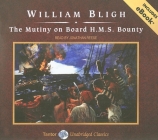 Description
---
Captain William Bligh recorded the most famous mutiny in sea history when a group of his men, led by Fletcher Christian, forced him from his ship onto a small launch and cast him adrift into the sea. Was Bligh a harsh sea captain whose vicious cruelty forced his men to mutiny? Or was Fletcher Christian greedy for power and unjustified in taking command? Was Bligh the tyrant of legend? Or was he one of the most lenient commanders of a Pacific exploration ship of that period? Sail with Captain Bligh on the H.M.S. Bounty, and then follow his incredible quest for survival during his 3,600-mile trip to Timor in an open boat. It's a timeless tale of man's heroic struggle to survive against all odds.
About the Author
---
William Bligh (1754-1817) was a British naval officer and colonial governor who is best remembered for the mutiny on the H.M.S. "Bounty."

Jonathan Reese (d. 1999) was a founding member of Berkeley's Straw Hat review and narrator of "The Executioner's Song" by Norman Mailer and "Travels in Alaska" by John Muir.